Implementasi Algoritma Haar Cascade pada Aplikasi Pengenalan Wajah
Keywords:
Face Detection, Face Recognition, Viola Jones, Haar Cascade, OpenCV, IP Camera
Abstract
The large number of citizens in an organization makes the development of an attendance system or citizen detection in a place important in the running of work activities in the organization. Utilization of an IP Camera which is only used for regular monitoring without further detection of the needs of citizens in the organization made the development of personnel detection developed for monitoring the presence of personnel.This study uses the Viola Jones method, which is a fast and accurate face detection method developed by Paul Viola and Michael Jones. In this study, the Viola Jones method uses the Haar Cascade algorithm which functions as a detection feature in the system and is combined with the internal image process and the AdaBoost Learning and Cascade Classifier so that the detected face object will easily classify whether the object is a face or not.  The detection is done by taking pictures with the process taken using a webcam. The system will take several pictures and then the image data will be stored in a folder called dataSet. After that, all data is trained so that it can be recognized by the system. With retrieval, detection and recognition limitations that can only be taken from a distance of less than three meters, face detection on the IP Camera can still read objects other than faces. With recognition and accuracy on the webcam camera, about 80,5% this system can be developed with the Haar Cascade algorithm and the Haar Cascade algorithm precisely to be applied to the development of faced detection and face recognition. By developing the Haar Cascade algorithm for face detection, problems and utilization of an organization's data can be more easily detected and used by IP cameras that can support the performance process of face detection and recognition.
Downloads
Download data is not yet available.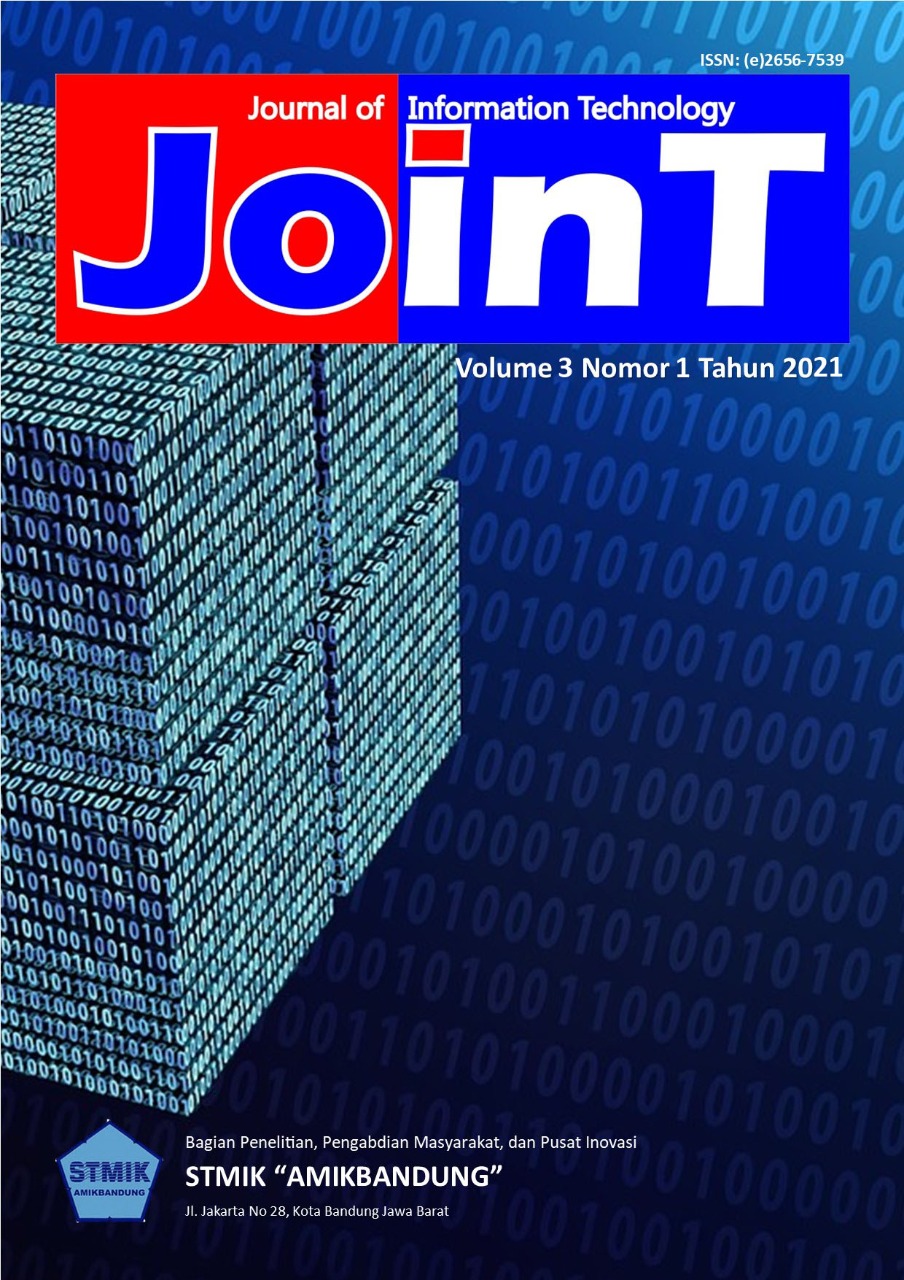 Downloads
How to Cite
Utami, F., Suhendri, S. ., & Abdul Mujib, M. (2021). Implementasi Algoritma Haar Cascade pada Aplikasi Pengenalan Wajah. Journal of Information Technology, 3(1), 33–38. https://doi.org/10.47292/joint.v3i1.45
License
Copyright (c) 2021 Journal of Information Technology
This work is licensed under a Creative Commons Attribution-NonCommercial-NoDerivatives 4.0 International License.
Hak cipta atas makalah yang diterbitkan oleh JOINT menjadi milik Bagian Penelitian, Pengabdian Masyarakat, dan Pusat Inovasi STMIK "AMIKBANDUNG". Tanpa izin tertulis dari dari Redaktur JOINT, dilarang untuk menggandakan makalah yang diterbitkan di JOINT dan menerbitkannya di tempat lain (baik digital maupun cetakan). Penulis makalah dapat menyimpan makalahnya sendiri di tempat lain (baik digital maupun cetakan) dengan tetap menyebutkan tempat publikasi yang merujuk pada jurnal JOINT.
Seluruh hak kekayaan intelektual yang terkandung dalam isi makalah menjadi hak milik masing-masing penulis. JOINT tidak memiliki hak apa pun atas kekayaan intelektual yang terkandung dalam makalah tersebut, selain hak cipta (hak untuk menggandakan dan mengedarkan) makalah.