Improvement of Parking Security System using Artifical Intelligence Imaging Technology
Keywords:
parking system, image processing, OCR algorithm
Abstract
Parking space is a public facility available at an agency or office that serves to temporally store vehicles, the vehicle that enters the parking area is become tens or even thousands, because tahat reason parking system and management area is needed. Such arrangements able parking procedures and even other support systems such as adequate parking facilities and infrastructure, other functions  is making and developing parking systems in general for  provide security and comfort, bacause the condition vehicle will be well organized in terms of vehicle placement and security and safety  can be used for 24 hours.
Constraints this time increasing number of vehicles  requires a wider parking area or space, the slow pace of vehicle data collection because the technology used is still carried out vehicle license plate validation manually, another problem is the placement of large areas, this limitation is based on the number of parking attendants in the field is very limited, so extra time are needed to arrange and check the vehicles that have entered the parking area.
This problem can be  handle  using image processing and OCR algorithm techniques, this technique has been implemented in several developed countries that are used to manage they  parking system, image processing is used to record and monitor the number of vehicles in the area by reading the number plate, scanning techniques using OCR (Optical Character recognition techniques) , data from a vehicle plate image is converted into text or numbers and can be stored  inside  database, data from the vehicle plate that has been stored is then matched with a vehicle photo, with help the system can be integrated with the camera so that the supervision of the parking area can be carried out directly for a long time, the system is able to display data visually.
Downloads
Download data is not yet available.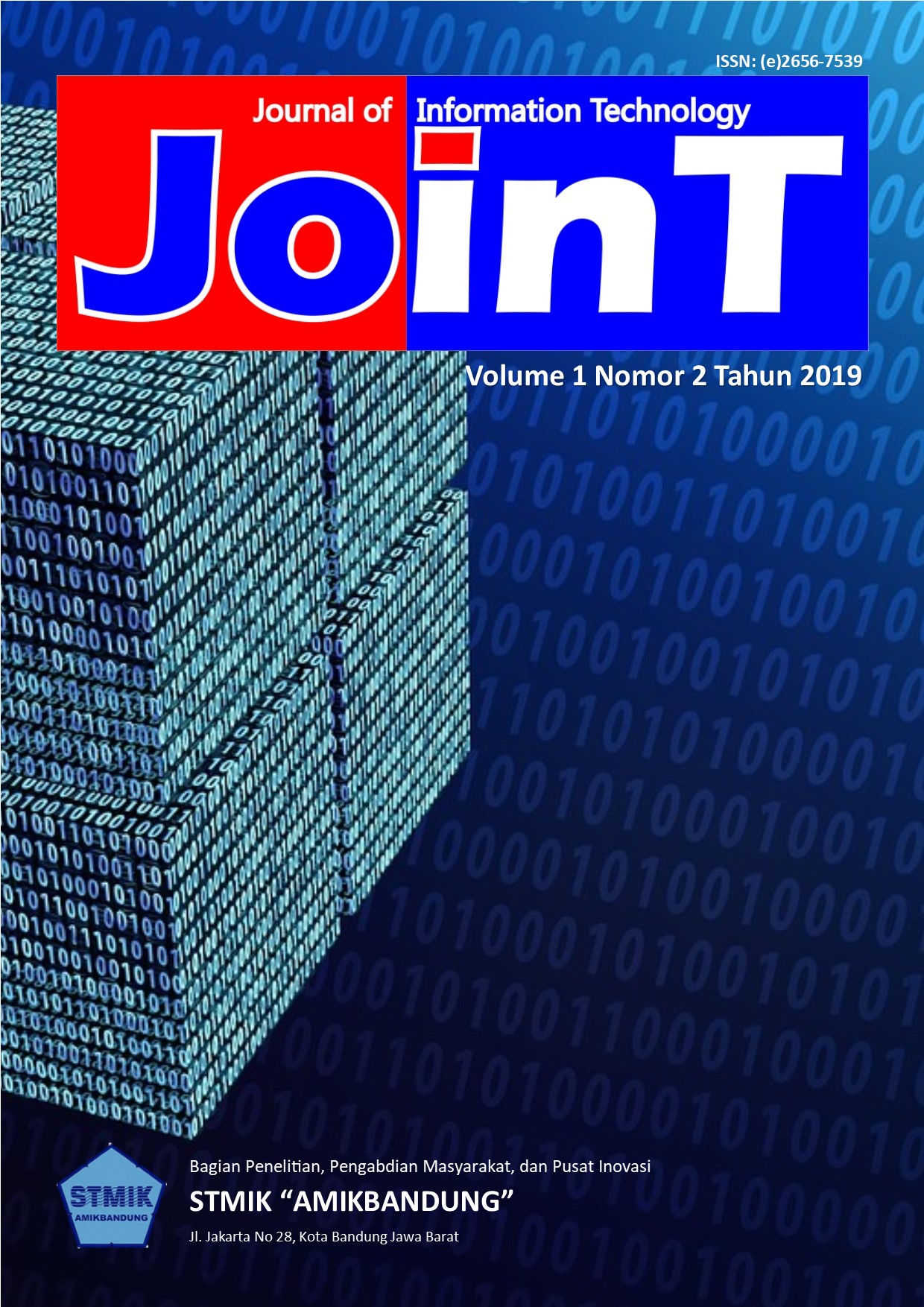 Downloads
How to Cite
Wahyu, A. P., Suhendri, S., & Heryono, H. (2019). Improvement of Parking Security System using Artifical Intelligence Imaging Technology. Journal of Information Technology, 1(2), 39–42. https://doi.org/10.47292/joint.v1i2.9
License
Hak cipta atas makalah yang diterbitkan oleh JOINT menjadi milik Bagian Penelitian, Pengabdian Masyarakat, dan Pusat Inovasi STMIK "AMIKBANDUNG". Tanpa izin tertulis dari dari Redaktur JOINT, dilarang untuk menggandakan makalah yang diterbitkan di JOINT dan menerbitkannya di tempat lain (baik digital maupun cetakan). Penulis makalah dapat menyimpan makalahnya sendiri di tempat lain (baik digital maupun cetakan) dengan tetap menyebutkan tempat publikasi yang merujuk pada jurnal JOINT.
Seluruh hak kekayaan intelektual yang terkandung dalam isi makalah menjadi hak milik masing-masing penulis. JOINT tidak memiliki hak apa pun atas kekayaan intelektual yang terkandung dalam makalah tersebut, selain hak cipta (hak untuk menggandakan dan mengedarkan) makalah.