QR Code-based Student Attendance System in STMIK "AMIKBANDUNG"
Keywords:
student attendance system, attendance qr code, STMIK AMIKBANDUNG, BAAK STMIK AMIKBANDUNG
Abstract
One of the important things that need to be considered in student assessment is the problem of student presence. The student attendance process that is very commonly done by universities is recording attendance manually, as currently applied by STMIK "AMIKBANDUNG". QR Code technology is a technology that can encode and decode all types of data into an image in the form of a code and can be read with a smartphone, this is very suitable for use as data validation, which is usually used for digital payment methods today. With these advantages QR Code technology can be implemented as well as supporting media in the smooth process of lecture attendance, This is interesting to the author to conduct research on lecture presence design using QR Code technology, with QR Code technology, each student is expected to no longer need to sign the form absent because the presence data will be identified automatically via a smartphone that can scan the QR Code and be stored in the system database.
Downloads
Download data is not yet available.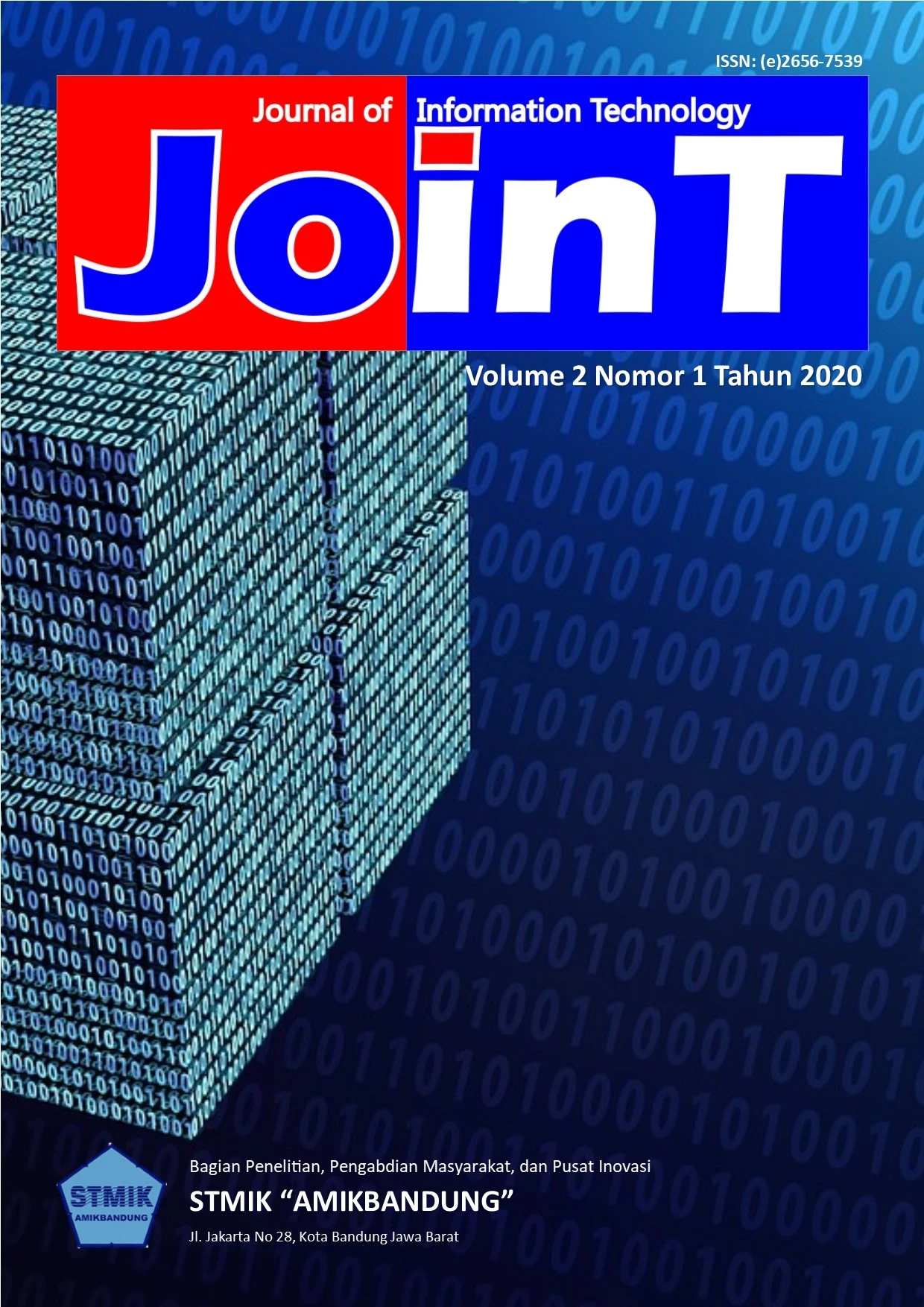 Downloads
How to Cite
Rafila, A. J., Darmanto, T., & Kurniawan, R. (2020). QR Code-based Student Attendance System in STMIK "AMIKBANDUNG". Journal of Information Technology, 2(1), 31–38. https://doi.org/10.47292/joint.v2i1.006
License
Hak cipta atas makalah yang diterbitkan oleh JOINT menjadi milik Bagian Penelitian, Pengabdian Masyarakat, dan Pusat Inovasi STMIK "AMIKBANDUNG". Tanpa izin tertulis dari dari Redaktur JOINT, dilarang untuk menggandakan makalah yang diterbitkan di JOINT dan menerbitkannya di tempat lain (baik digital maupun cetakan). Penulis makalah dapat menyimpan makalahnya sendiri di tempat lain (baik digital maupun cetakan) dengan tetap menyebutkan tempat publikasi yang merujuk pada jurnal JOINT.
Seluruh hak kekayaan intelektual yang terkandung dalam isi makalah menjadi hak milik masing-masing penulis. JOINT tidak memiliki hak apa pun atas kekayaan intelektual yang terkandung dalam makalah tersebut, selain hak cipta (hak untuk menggandakan dan mengedarkan) makalah.