Integrated Library System Untuk Meningkatkan Efektifitas Layanan Perpustakaan Dengan Menggunakan Metode Algoritma Apriori
Studi Kasus: Perpustakaan Kabupaten Cirebon
Keywords:
INLIS Lite, Perpustakaan Kabupaten Cirebon, Algoritma Aprior
Abstract
Cirebon Regency Library is one of the libraries that stands on Jl. Sunan Drajat No.9 Source. Where the library has improved its services through the provision of facilities and rooms that are very adequate. With the increase in book collections in the library, it would be great if you use a data mining system that functions to determine the data set as a process that can help in finding the books desired by library customers. The association rule technique using a priori algorithm can be used as a reference in finding out simultaneous borrowing in one transaction that occurs on one item. After determining that one item, testing is carried out whether it can meet the support standard which can be used as a minimum requirement then a rule is made in accordance with the confidance drinking standard, since 2020 the Library System in Cirebon Regency has used localhost which is an integrated library system in providing services to customers. One of the services provided is information that is needed centrally so that it can support decision makers what books are available for borrowing, what are the conditions for becoming a member, who is already a member. By using this system, we can see a pattern of borrowed books based on recommendations from librarians and can make arrangements in book storage in accordance with the patterns of information in book storage.
Downloads
Download data is not yet available.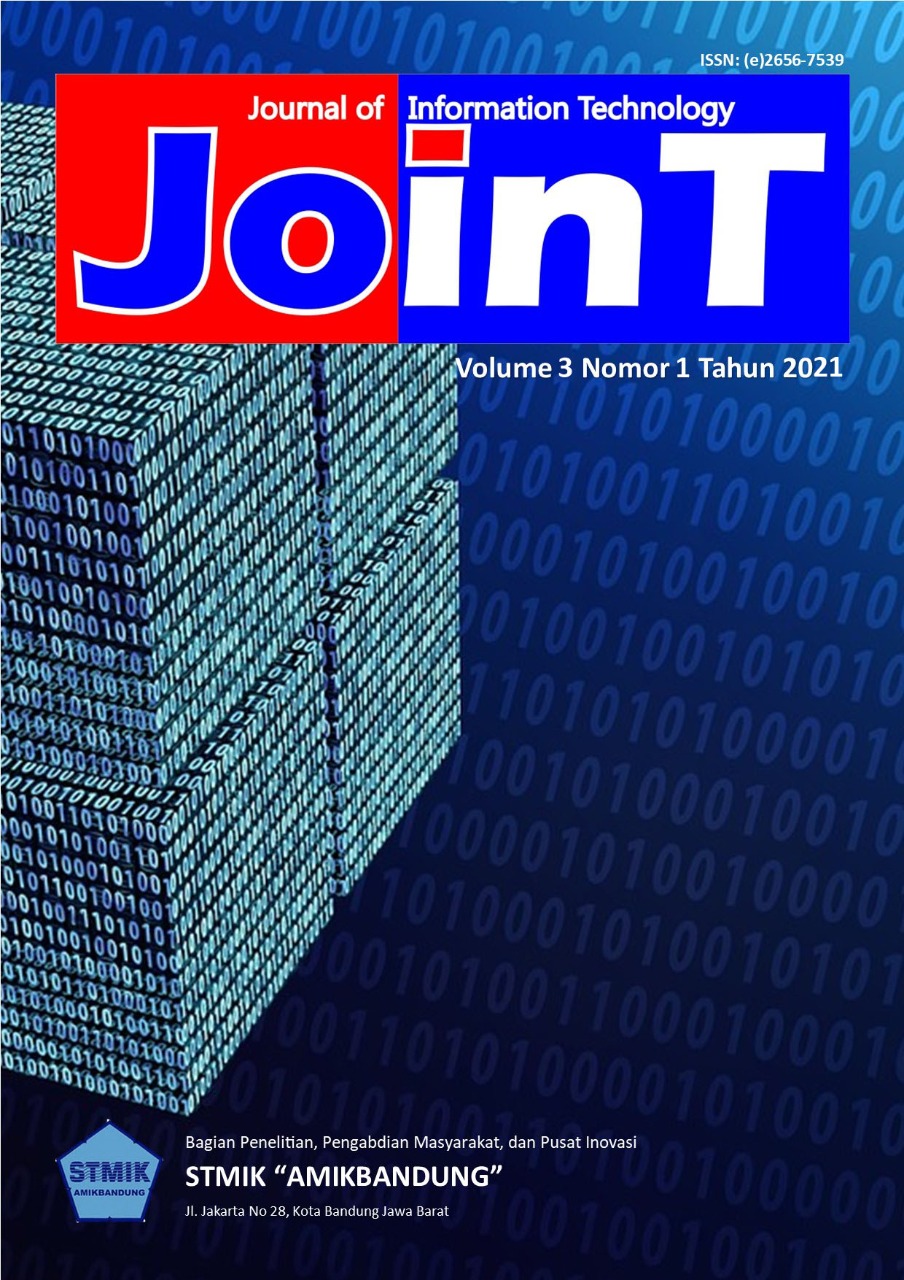 Downloads
How to Cite
Nurfajiah, A., Hartati Mindara, T., & Rizki Amalia, D. (2021). Integrated Library System Untuk Meningkatkan Efektifitas Layanan Perpustakaan Dengan Menggunakan Metode Algoritma Apriori: Studi Kasus: Perpustakaan Kabupaten Cirebon. Journal of Information Technology, 3(1), 39–44. https://doi.org/10.47292/joint.v3i1.55
License
Copyright (c) 2021 Journal of Information Technology
This work is licensed under a Creative Commons Attribution-NonCommercial-NoDerivatives 4.0 International License.
Hak cipta atas makalah yang diterbitkan oleh JOINT menjadi milik Bagian Penelitian, Pengabdian Masyarakat, dan Pusat Inovasi STMIK "AMIKBANDUNG". Tanpa izin tertulis dari dari Redaktur JOINT, dilarang untuk menggandakan makalah yang diterbitkan di JOINT dan menerbitkannya di tempat lain (baik digital maupun cetakan). Penulis makalah dapat menyimpan makalahnya sendiri di tempat lain (baik digital maupun cetakan) dengan tetap menyebutkan tempat publikasi yang merujuk pada jurnal JOINT.
Seluruh hak kekayaan intelektual yang terkandung dalam isi makalah menjadi hak milik masing-masing penulis. JOINT tidak memiliki hak apa pun atas kekayaan intelektual yang terkandung dalam makalah tersebut, selain hak cipta (hak untuk menggandakan dan mengedarkan) makalah.