Penerapan Advance Encryption Standart Dalam Pengamanan Elektronik Voting
Keywords:
E-Voting, Sistem Voting, CSRF, AES
Abstract
E-Voting is an election that uses information technology facilities as well as electronic devices where part or all of the process is done digitally. The electoral process by means of E-voting can help the counting process faster and costs less than the conventional electoral process. However, this electronic-based election is prone to manipulation, therefore it requires protection of the system. In this study, AES and CSRF algorithms were implemented to increase security in the E-Voting application. The election is limited to the election of the executive mayor / regent. This study uses Acunetix software to test the level of security. In testing, four versions of the website were made, namely: the website without AES and CSRF, the website only with AES, the website only CSRF and the website using AES and CSRF. The test results on the website with AES and CSRF show a satisfactory increase in security, only one medium level application vulnerability warning and two low level application vulnerability warnings. Test results with Acunetix on websites without AES and CSRF received seven medium warnings and eleven low warnings. The CSRF test results only get two low warnings but the number of data scans is only a few. The AES test results only get four medium warnings and one warning. Thus, the application of the AES algorithm can increase the level of security of the E-Voting system
Downloads
Download data is not yet available.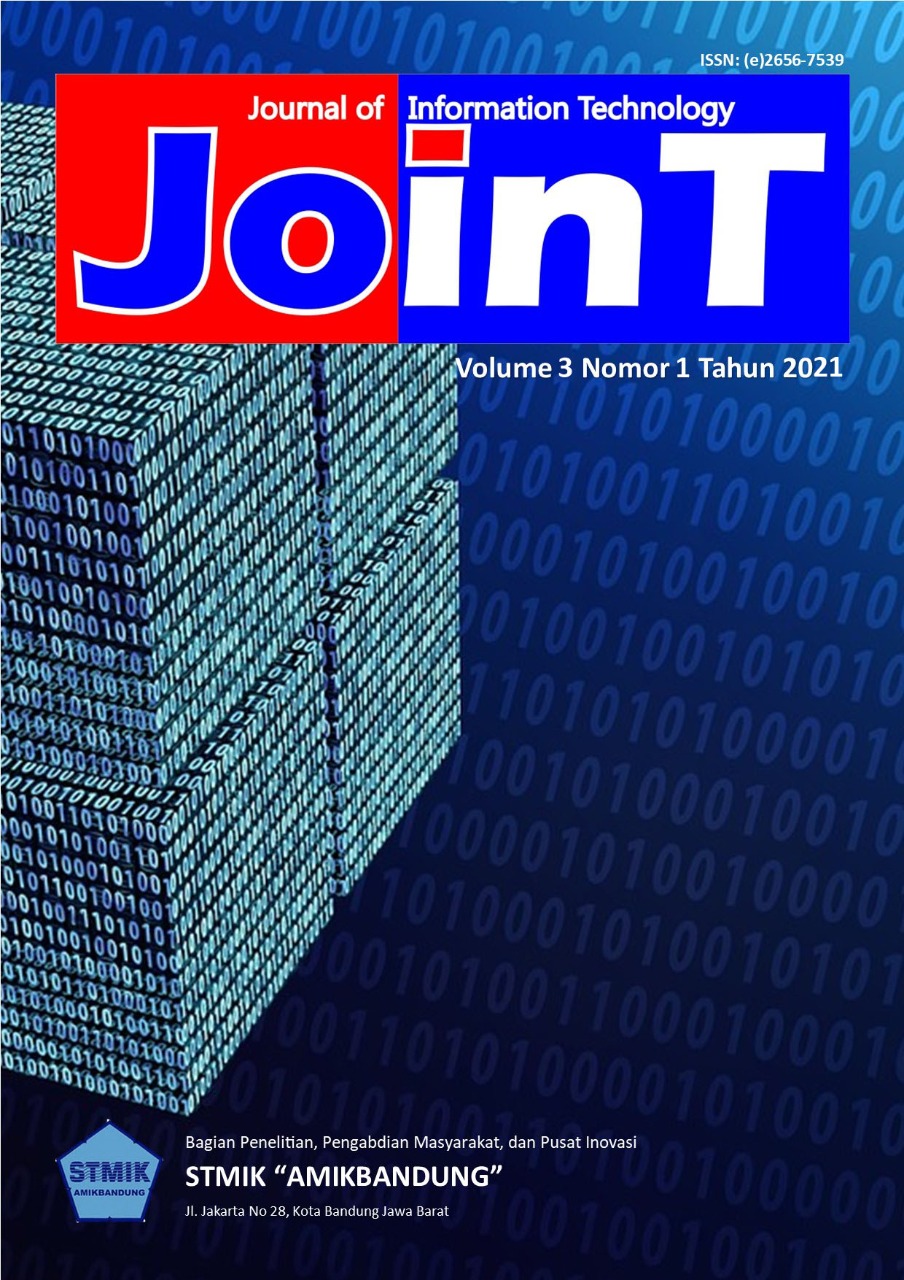 Downloads
How to Cite
ungkawa, uung, Rosmala, D., & Fauzi, H. (2021). Penerapan Advance Encryption Standart Dalam Pengamanan Elektronik Voting. Journal of Information Technology, 3(1), 17–23. https://doi.org/10.47292/joint.v3i1.51
License
Copyright (c) 2021 Journal of Information Technology
This work is licensed under a Creative Commons Attribution-NonCommercial-NoDerivatives 4.0 International License.
Hak cipta atas makalah yang diterbitkan oleh JOINT menjadi milik Bagian Penelitian, Pengabdian Masyarakat, dan Pusat Inovasi STMIK "AMIKBANDUNG". Tanpa izin tertulis dari dari Redaktur JOINT, dilarang untuk menggandakan makalah yang diterbitkan di JOINT dan menerbitkannya di tempat lain (baik digital maupun cetakan). Penulis makalah dapat menyimpan makalahnya sendiri di tempat lain (baik digital maupun cetakan) dengan tetap menyebutkan tempat publikasi yang merujuk pada jurnal JOINT.
Seluruh hak kekayaan intelektual yang terkandung dalam isi makalah menjadi hak milik masing-masing penulis. JOINT tidak memiliki hak apa pun atas kekayaan intelektual yang terkandung dalam makalah tersebut, selain hak cipta (hak untuk menggandakan dan mengedarkan) makalah.