Public Intention on Bandung Tour on Bus
Keywords:
tourism, quality of service, consumer satisfaction, public intention
Abstract
Bandung is known as the capital of West Java. Bandung also develops as a culinary city. As a form of the Government's responsibility to facilitate tourists who come to Bandung, the Government has officially announced the "Bandros" Tourism Bus (Bandung Tour on Bus). But practically, there are many problems faced by stakeholders. Standardization of prices among passengers, limits on the number of buses that cannot serve passengers, unclear routes including departures and arrivals, unhealthy management for safety factors and an increase in the number of passengers that have a negative impact due to the quality of service. The purpose of this study is to describe service quality, community satisfaction and community interest in reusing Bandros, and also to obtain the results of an analysis of the extent to which service quality affects community satisfaction and its impact on community interest in reusing Bus Bandros. In this study, researchers used the descriptive-verification method. This method is used to verify the quality of service perception, community satisfaction and community intentions to reuse Bus Bandros by involving 500 respondents who wish to use Bus Bandros. The distribution and selection of respondents was carried out using convenience sampling. Path analysis is also used in this study. Based on the results of the statistical testing process found significant perceptions between service quality variables and brand image with public interest in the city of Bandung to use Bus Bandros. For recommendations in this study, clarity of information can increase the public's intention to use Bus Bandros, because the information submitted will provide clarity in order to increase public intention to ride Bus Bandros.
Downloads
Download data is not yet available.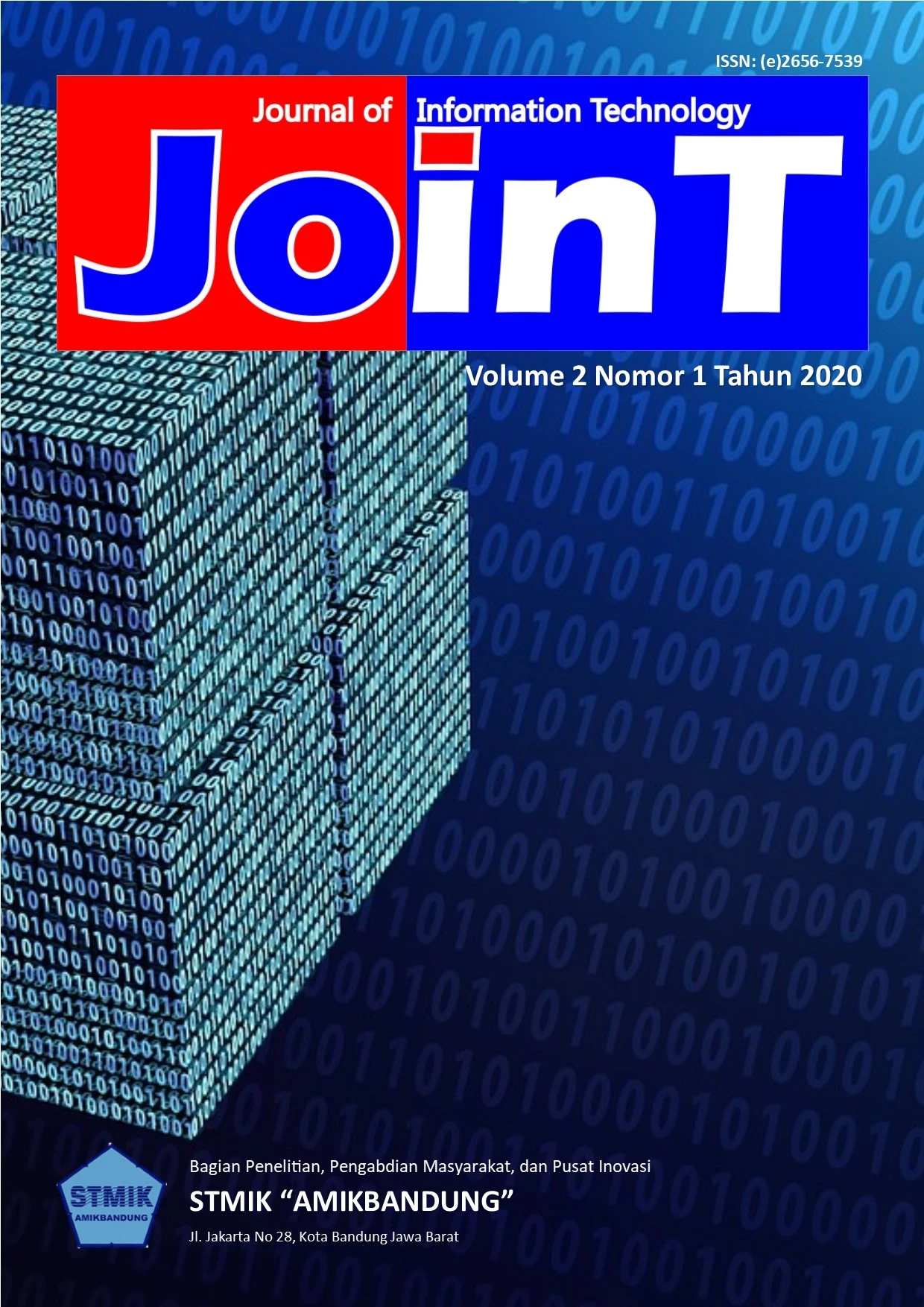 Downloads
How to Cite
Anwar, T. A., & Puspita, Y. (2020). Public Intention on Bandung Tour on Bus. Journal of Information Technology, 2(1), 13–16. https://doi.org/10.47292/joint.v2i1.003
License
Hak cipta atas makalah yang diterbitkan oleh JOINT menjadi milik Bagian Penelitian, Pengabdian Masyarakat, dan Pusat Inovasi STMIK "AMIKBANDUNG". Tanpa izin tertulis dari dari Redaktur JOINT, dilarang untuk menggandakan makalah yang diterbitkan di JOINT dan menerbitkannya di tempat lain (baik digital maupun cetakan). Penulis makalah dapat menyimpan makalahnya sendiri di tempat lain (baik digital maupun cetakan) dengan tetap menyebutkan tempat publikasi yang merujuk pada jurnal JOINT.
Seluruh hak kekayaan intelektual yang terkandung dalam isi makalah menjadi hak milik masing-masing penulis. JOINT tidak memiliki hak apa pun atas kekayaan intelektual yang terkandung dalam makalah tersebut, selain hak cipta (hak untuk menggandakan dan mengedarkan) makalah.